Powder Coating Lines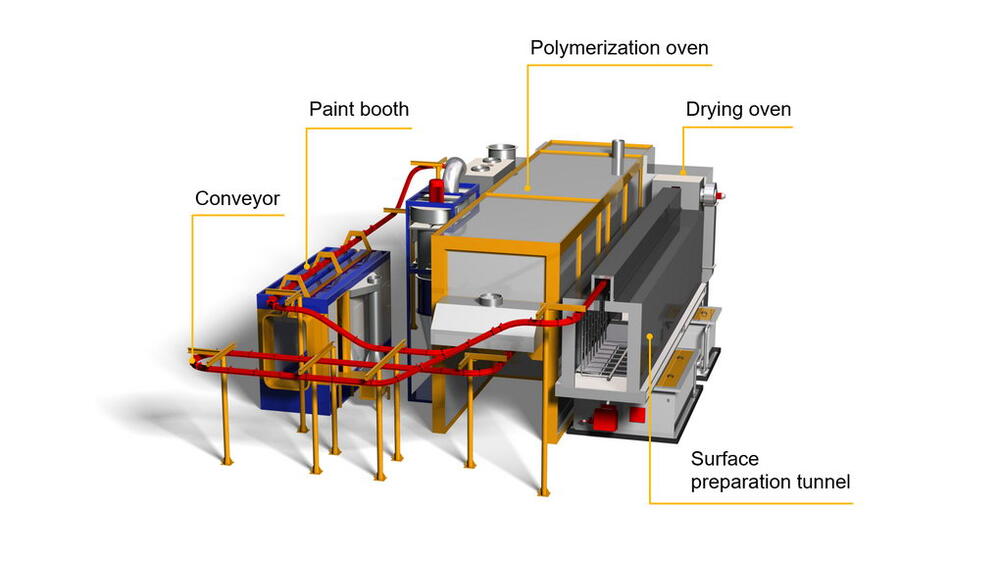 Powder coating lines are designed for applying protective and decorative polymer coatings to a wide range of metal products, including structural furniture, household appliances, automotive and agricultural machinery components, armored doors, commercial equipment, architectural aluminum profiles, and much more.
EUROIMPIANTI automatic conveyor lines are used in the serial production of metal products to ensure high quality polymer coatings and minimize the cost of painting.
Our lines provide virtually waste-free technology with rational consumption of energy and resources in closed cycles. This positively impacts the environmental cleanliness of production and workplace safety.
Complete Set of Powder Coating Line
The items to be coated are hung on a conveyor and successively go through all stages of powder painting technology. The coating line includes:
Chemical pretreatment tunnel for surface cleaning and formation of a protective conversion layer;
Drying oven with intensive hot air blowing for drying parts after washing;
Paint booth for applying powder paint automatically or manually;
Powder polymerization oven to form a monolithic coating with specified aesthetic and functional properties;
Overhead conveyor for transporting coated items through all stages of the technological cycle;
Computerized PLC control panel with contact screen to monitor process parameters and control line operation.
The coating line must have a complete processing cycle, including mandatory surface chemical preparation. Without proper degreasing and the application of a conversion layer, it is impossible to achieve a durable result: the polymer coating will peel off, just like old snake skin during shedding.
The configuration of the coating line and the applied technological cycle depend on the quality requirements of the final coating. More details about the modules included in powder coating lines.
EUROIMPIANTI Powder Coating Lines
The video shows a EUROIMPIANTI line operating at Tecnolam Srl, a company specializing in sheet metal processing. The line has been in successful operation since 2012 for powder coating various materials, including aluminum, galvanized steel, and stainless steel products.
Line includes a 6-stage surface preparation tunnel with an adaptive cycle, depending on the type of metal. This has allowed for reliable protection and certification of the coated products according to UNI EN ISO 9001-2008 2015 standards.
Two powder coating booths on mobile platforms are used for applying powder paint. This solution allows for quick color changes and the coating of numerous small batches of multi-colored products. An automatic unit with a shape scanner ensures precise control of spray parameters and stable process repeatability.
Engineering Capabilities for Customizing Lines
We have specialized in the design and manufacturing of powder coating lines since 1976. Our design philosophy is based on a modular approach and the serial production of standardized components, which can be assembled into various line configurations. This allows us to customize the equipment to meet individual customer requirements:
Any sizes of painted parts. We produce various types of lines for painting metal parts of any size and various shapes. From lightweight small-sized furniture components to large-scale construction structures up to 14 m long.
Any production capacity. Based on the required product painting program, we design the required operating speed of the conveyor. By knowing the required processing time, we plan sufficient lengths of active zones at each technological stage.
Any available energy sources. All types of combustible fuels can be used as the main energy carrier in the lines: fuel oil, diesel fuel, natural and liquefied gas. Or electricity — from traditional heating elements to IR emitters.
Compact layout. Structural flexibility allows the line to be placed in rooms of any shape. We take into account regulatory requirements and the convenience of the location of loading / unloading areas of the conveyor for optimal logistics of blanks and painted products.
Possibility of upgrading lines throughout their operation. Our customers can increase line capacity as their paint program grows, change surface preparation cycles, or simply move lines to new industrial premises.
Lines are assembled from standard components like a construction set. Exclusively bolted connections are used, avoiding welding, which simplifies the assembly / disassembly of the lines. Read more about the advantages of modularity.
«For over 45 years, we have been developing and manufacturing reliable and cost-effective powder coating lines. EUROIMPIANTI is a leading company thanks to continuous research, innovation, and the experience of producing over 2000 coating lines. We take pride in delivering the best equipment at the lowest cost».
Gianluca Baruffaldi
CEO of EUROIMPIANTI GROUP
High Quality Polymer Coating
The quality of the final coating and the consumer properties of the painted products are important factors for competitiveness. The polymer coating must be aesthetic and durable — with high resistance to wear, corrosion, ultraviolet radiation, and other aggressive influences.
Main factors influencing the quality of the finishing coating:
Surface preparation plays a crucial role in ensuring the strength and durability of the coating. Proper cleaning includes removing contaminants, degreasing, and forming a conversion layer to enhance adhesion between the metal and powder coating. More about surface preparation.
The coating thickness and the number of applied layers are determined by customer requirements or industry standards for the final product's application. In some cases, to enhance the functional or aesthetic characteristics of the coating, the application of two layers may be required: primer + paint or paint + clear varnish.
Automatic paint application ensures consistent coating quality and process repeatability. The use of reciprocators and robotic systems enables even powder distribution for uniform coating thickness. More about paint automation.
The completeness of polymerization directly depends on the characteristics of the oven: thermal power and the length of the active "hot" zone. Properly organized circulation of hot air ensures uniform heat distribution throughout the oven, which promotes uniform melting and polymerization of paint.
We take into account the category of the product being painted, its operating conditions and the required service life. Considering all these factors, we propose the ideal painting technology — the surface preparation cycle, the number of coating layers, temperature conditions and processing time at each stage. As a result, we increase the quality and competitiveness of our customers' products.
Products painted on our lines comply with international standards ISO, ASTM, NACE, AAMA and QUALICOAT. The presence of quality certificates makes it possible to document the high protective and decorative characteristics of the coating and increase the consumer value of the painted products.
Minimum Cost of Polymer Coating
Minimizing the cost of coating is the main criterion for the efficiency of painting lines, which underlies all our engineering developments and innovations. We guarantee the achievement of the required coating quality with minimal material and energy consumption.
We implement resource-efficient and energy-saving technologies:
Saving water and chemicals in surface preparation tunnels. The automatic cascade replenishment system for baths ensures a high degree of reagent utilization in closed cycles without drainage into the sewer system. Additionally, the tunnels are equipped with automatic reagent dispensers, oil separators and regenerators to maintain the cleanliness of the baths and extend the lifespan of chemical solutions.
Saving of powder paint due to the automatic application method with precisely controlled coating thickness and the use of sprayers with a high powder transfer coefficient. Thanks to resource-efficient recovery systems and the utilization of powder centers with an automatic proportional mixing function for fresh and recycled powder, the powder paint utilization rate reaches 95-98%.
Energy carrier savings through complete insulation of all "hot" stages and the use of efficient heat generators in combination with massive thermo-inertial heat exchangers. Our innovative know-how is aimed at the most rational use of thermal energy — for example, combined drying and polymerization ovens with the possibility of utilizing the heat from cooling parts.
Record-low electricity consumption is achieved through the use of energy-efficient electric motors and unique engineering solutions, such as the utilization of numerous low-power fans in the ovens. As a result, the heat exchanger is uniformly ventilated along its entire length, ensuring even heat distribution with minimal energy expenditure on air circulation.
A fully automated EUROIMPIANTI line with high resource and energy consumption efficiency ensures economically efficient and virtually waste-free, environmentally friendly production with minimal coating costs.
Reliability and High Working Life
The reliability and durability of EUROIMPIANTI is proven by the successful experience of operating more than two thousand lines. High maintainability and ease of technical maintenance are laid down at the design stage in AutoCAD. Thanks to rational engineering, the service life of the equipment is 15 - 20 years.
Reliability factors for EUROIMPIANTI lines:
High-quality materials. The production of our lines involves materials with a high strength margin. The surface preparation tunnels are entirely made of stainless steel, making them practically "eternal", even when using to aggressive chemicals. Heat exchangers are made of heat-resistant stainless steel, capable of withstanding continuous thermal loads and expansion.
Best components. We have strict requirements for the suppliers of components and consumables. Selection criteria include reliability, low operating costs, and a long service life. We use only proven components: LOWARA pumps, ABB motors, WEISHAUPT gas burners, MAHLE filters and SIEMENS electronics.
Simplicity of Control. The computerized control panel with "foolproof" protection eliminates errors by the service personnel. Pre-installed programs allow you to start and stop the line in just two touches. Smart automation with self-diagnostic function will prevent operational failures and promptly remind you of the need for maintenance.
Maintainability. Thanks to easy access to all components, our lines are easy to maintain and designed for quick restoration of functionality. Preventive maintenance is performed based on operating hours. Service maintenance schedules include clear step-by-step instructions with visual assembly/disassembly diagrams.
The benefits of a reliable line are evident over a long distance. A high working life allows for reduced depreciation and operating costs for service maintenance. One of the indicators of EUROIMPIANTI's high reliability is the warranty period of 24 months, with round-the-clock operation.
IER of Implementing a Coating Line
IER (Ideal End Result) of implementing a coating line — ensuring high quality and low cost coatings for decades of trouble-free operation. This is a key indicator of the value of a paint line and determines the long-term economic impact.
An economical and durable EUROIMPIANTI line unconditionally encompasses the sum of all success factors. In addition to obvious economic benefits, rational energy and resource consumption bring our lines close to being virtually waste-free, which positively impacts the environmental cleanliness of production and workplace safety.
EUROIMPIANTI lines are as economical as LED lamps. Just as effective, economical and durable:
Guarantee high quality polymer coatings that meet international standards;
Provide minimal painting costs due to savings in materials and energy;
Operate for decades due to reliable engineering solutions and components.
Our main advantage and pride is expert support. We will expertly advise on powder paints and chemicals to achieve the required aesthetics and functionality of the coating. We will also help reduce costs through the introduction of low-temperature and thin-film materials.
45 years of experience in the design and production of painting lines has allowed us to accumulate an extensive knowledge base in all sectors of industrial production. We continuously conduct research and implement innovations to improve equipment and enhance the sustainability of the painting technology.
Start of Cooperation
Technical Assignment is the first step for a substantive dialogue and the beginning of cooperation. It is necessary to fill out the online form and provide the initial data for the design of the powder coating line. We will need the dimensions of the parts, the production program, the room layout, etc. More details on how to properly prepare the Technical Assignment.
Understanding the task is an important stage during which we will clarify all questions, synchronize the correctness of understanding the Technical Assignment (TA), and the vision of the Ideal End Result (IER). We will identify factors of product competitiveness in order to propose the perfect painting technology and design the required powder coating line. More details about cooperation.
* * *
Each painting line is individually developed in accordance with the Technical Assignment. We design the unique characteristics of the line to solve the task: we select the technological cycle, productivity and degree of automation. We adapt the modules configuration, taking into account the available space and the shape of the production premises.
Custom lines at low prices. Thanks to mass production of standard modules and long-term partnerships, which provide access to the best components and materials at wholesale prices.
The high qualification and ingenuity of our specialists will allow us to enhance the quality of the painted products and establish an efficient powder coating area. Just tell us about your task, and we will offer the best solution at a competitive price.
TA for Powder Coating Line
Please complete the Technical Assignment form. We will refine the task, extensively review configuration options, and offer our most competitive technical and commercial proposal.

Fill out the TA